Happy World Book Day everyone! As if we need one day to rejoice the wonder of books. Every day is book day for me, but I guess not for everyone and it is nice to have the printed word worshipped and enjoyed by millions. I miss the dressing up factor of working in a nursery. I'm not sure turning up for a school pick-up dressed as a Sheep from Punk Farm would go down well, but in a nursery or school you can get away with pretty much anything.
I just read a post about the Top Ten Music Novels, in honour of Word Book Day, and that got me thinking about my top Music Books for Kids. And here they are in reverse order:
5. Rock 'n' Roll Mole, by Carolyn Crimi and Lynn Musinger.
This charming tale of Mole, who plays his guitar like a rock legend when by himself in his room, yet is petrified of performing in public, is sweet and funny. As a teacher working with music in early years and key stage 2, confidence is a huge part of their development. And feeling they are in a safe environment to try new things and experiment is essential. With lots of cool jokes and lively illustrations, the kids will love Mole and be spurring him on to the end. And with a best friend like Pig, who supports and encourages him, Mole may just make it to the talent show yet.
4. Igor: The Bird Who Couldn't Sing, by Satoshi Kitamura.
This book is as visually stunning as its sentiment: that everyone can sing! Granted, some better than others. But people bandying around terms such as tone deaf and you can't sing, need to think about how that affects the person. If someone loves to sing, let them sing. Singing makes people happy. It warms you from the inside and it releases things from you that you probably didn't even realise needed releasing. Poor Igor is laughed at by his bird friends and sent away by his music teacher, told that he just can't get it right. So Igor gives up his dream of singing and moves to a quiet place, but eventually the pull of song in his heart is too strong and he finds his perfect duet partner. Kitamura's book is a visual dream and holds a beautiful sentiment. Kids of all ages will love this book and the way sound and pitch is imagined and illustrated is fantastic! The many children I have read this to just love to follow the different colours and shapes and imagine and explore what sounds they would make with their own voices.
3. Ruby Sings the Blues, by Niki Daly
Now I have to say, it was a close call for 3rd and 4th place, and I love Igor so much, but there is just something about Ruby, the protagonist of this book that I can't resist. From the opening line: 'Ruby was loud......very loud,' I was hooked on this girl and her story. Ruby is constantly told off about her loudness and eventually chooses to be silent. This is a common occurrence amongst children and I think sometimes too much emphasis is placed on being quiet or silent and not allowing children full exploration of their voices and what they can do. Children should never have their voices dismissed, but should be encouraged to use them in different ways, and in this book Ruby is taught how to sing. Go Ruby!
2. Punk Farm on Tour by Jarrett J. Krosoczka.
The second book from the legendary mind behind Punk Farm is just as wonderful as the first. Join these five farm animals on their first ever tour! See them panic about set lists. See them do up the Punk Van. See them signing autographs and posing for photographs with the fans. And just rejoice in the magic of Punk Farm and their world. But can they get home before Farmer Joe? These are five cool Rock Stars with punk on the brain and they are about to take the world by storm! 'Peace out Colorado!'
1. Punk Farm, by Jarrett J. Krosoczka.
Well, it had to be didn't it? I mean, what else could possibly be number one? In 2010 when on holiday in Seattle, we visited the Experience Music Project - which by the way, you have to do when in Seattle. It's incredible! - and in the gift shop I stumbled upon this bright picture book. I loved it from the cover, but when I delved inside I knew there was no way I would make it back to the UK without it. And they had Punk Farm on Tour as well, so I did the double whammy and came home from holiday with two outstanding picture books which my kids at the nursery absolutely fell in love with! We would have afternoons where we acted out Punk Farm and I brought in my microphone and keyboard, and we made a cardboard guitar and bass guitar, and a make shift drum kit consisting of overturned bowls and drum sticks. And we rocked the house down. We had a Punk Farm Hall of Fame and the parents sometimes stopped in to watch us. I honestly believe these stories are genius encased in thirty something pages, and have gifted these books to many a music student, or key child of mine. And now all my friends are having kids, so watch this space, they'll be receiving Punk Farm shortly. Think you know the song Old MacDonald Had a Farm? Think again.
So there you have it, my top five. I'm sure there are loads out there that I don't know of, but the one's I do know of bring me just as much joy to read, as they do to the children I'm reading to. Sometimes I fail to remember life before Punk Farm.
And here's me dressed up as sheep from Punk Farm, five years ago on World Book Day, when I still worked at the nursery full time. That Sheep can sing!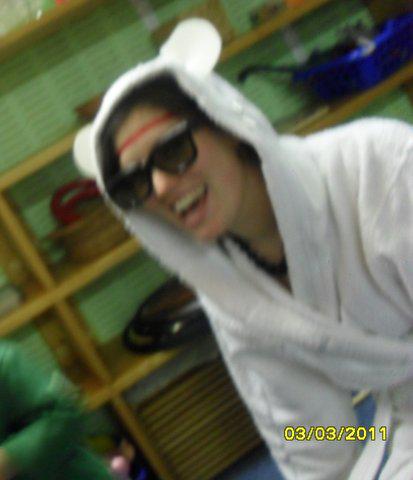 And my 28th Birthday Cake from 2011 as homage to my favourite punk band! (Courtesy of my sublimely talented mother.)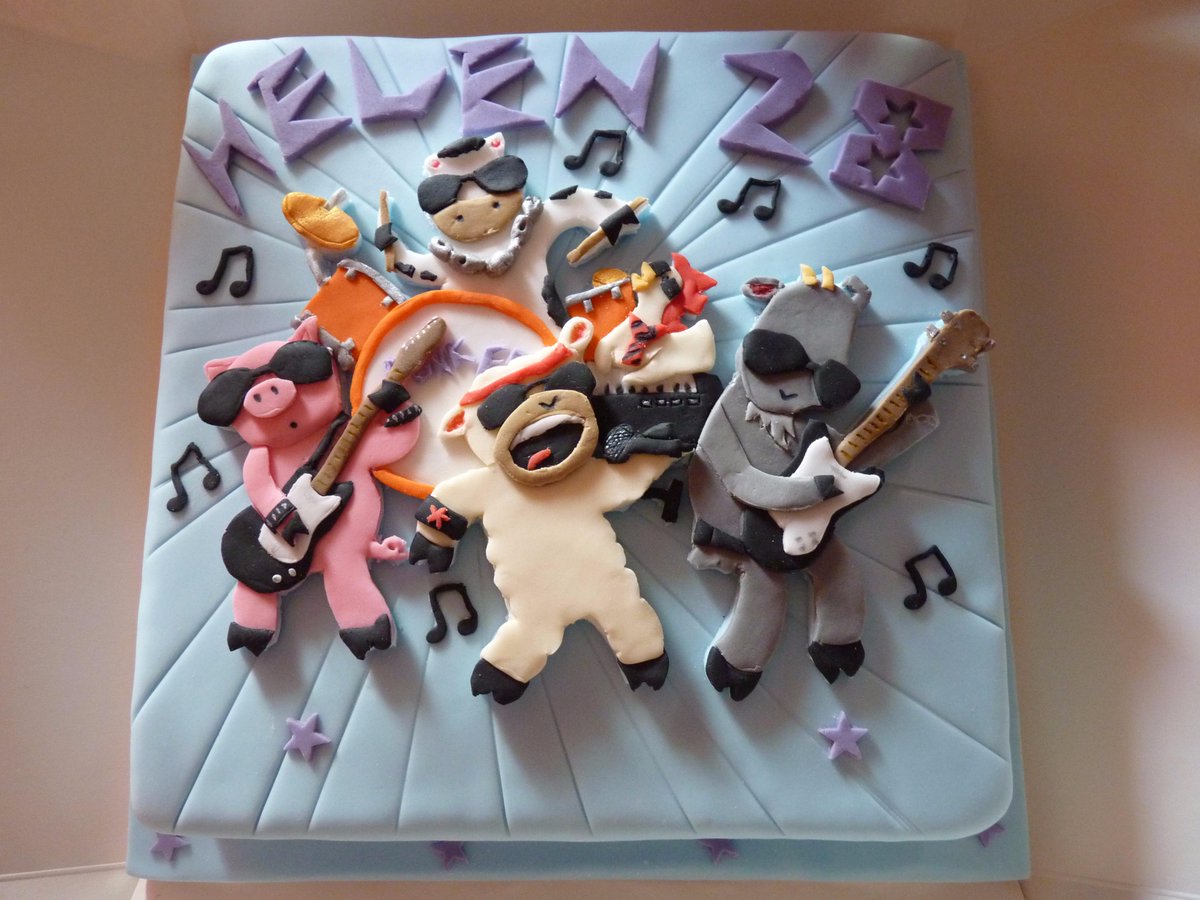 'Thank you Wisconsin' and 'Peace out Colorado!'
Rants